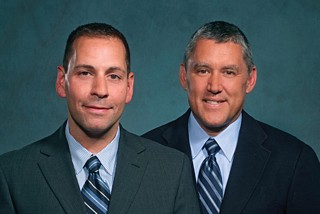 Ranco and DeAngelo
Senior Sales Associates South End Office
617-587-4626
617-587-4646
About Ranco and DeAngelo
There are many qualities and skills that are essential to the career of an outstanding real estate professional. John and Joe firmly believe that the critical elements of their business partnership include: integrity, in-depth community and market knowledge, strategic marketing, effective negotiation skills and a high-quality professional network.
John and Joe continually strive to improve their skills and ways of doing business. Providing the very best service in the industry is essential to achieving their "client first" approach to real estate. This approach requires them to be accessible, good listeners, educated communicators, as well as being responsive to the needs of their buyer and seller clients. In addition to working effectively with buyers and sellers in all price ranges, John and Joe have had significant experience and success working with developers.
The team of Ranco and DeAngelo has combined real estate experience of over 30 years, and professional sales achievements which rank them in the top 1% of sales agents in their market. In just over two years, they have participated in 116 closed transactions, totaling $100,000,000.00 in sales volume.
For updates on current Boston market trends, click here: www.bostonmarketsnapshot.com
Click here to read about Ranco and DeAngelo's record-breaking 2014.
Real Estate Listings